I've always described myself as a reluctant accountant.
I chose accounting as my major in college without any clue about what a job in the field would entail. I just knew I liked to work with numbers but calculus threatened to make my head explode.
After barely passing the CPA exam, I set off into the exciting and glamorous world of accounting.
Accounting is not what you'd call a creative field. In fact, there are laws against "creative accounting". Interesting, fascinating laws!
I've worked for big firms and small firms, full-time at the start, and then part-time after my first child was born.
When my second child came along, I decided to hang up my own shingle and work from home.
Anyone who says working from home is easy has never done it.
The low point in both my accounting career and my career as a parent came one day when I had to call a client about some very important matter regarding their financial situation.
Of course, this was back before cell phones, before even cordless phones so I was tethered to the wall in the kitchen.
Baby girl was napping; big brother was playing quietly in the living room.
Playing quietly, that is, until he noticed that I was on the phone.
We've all experienced this, right?
My adorable son started squawking and demanding my attention while standing behind the Lazy Boy in the living room, just out of the reach of my telephone cord.
I'm not proud of what happened next.
Folks, I grabbed a package of Oreos from the pantry and started tossing them to my son as though they were fish and he was a performing sea lion.
It quieted him down – until the sugar rush kicked in.
Not my finest moment.
Well, maybe that working-from-home thing didn't pan out for me but I loved the idea of having my own business.
So, while biding my time as a reluctant accountant I brainstormed ideas for entrepreneurial success.
Eventually, I came up with an idea. I researched, roughed out a business plan, researched some more, sent out a survey to potential clients, and researched even more.
One day my (now much older, Oreo eating) son said to me, "Are you going to spend the rest of your life thinking about starting a business or are you actually going to do it."
Boom! Wise words from a wise fellow.
I took the leap and PakOPerks was born.
PakOPerks was geared toward vacation rental properties. We had, over the years, rented vacation homes and were always surprised at how few amenities were provided. Hotels give guests shampoo, soap and even coffee. Most vacation rental spots give nothing.
My idea was to allow property managers to pick and choose from a variety of "perks" to include in welcome gifts customized for their guests and their location.
We offered items like shampoo, sunscreen, laundry detergent, dish soap, coffee, tea, nuts, biscotti, playing cards and yes, even Oreos.
The packs could be as big or as small as desired. Each was individually packaged in gift bags to be given to guests upon check-in.
During the life of this business, we sent many thousands of these gift bags to customers all over the country. From Myrtle Beach to Jackson Hole, from Palm Springs to Cape Cod, PakOPerks greeted guests and gave them a "starter kit" for their vacation needs.
But alas, all good things must come to an end.
Although, for a variety of reasons, I eventually had to close PakOPerks, I was proud that my little business had been as successful as it was.
While accounting has been good to me over the years, it was the time I spent working on PakOPerks that made my heart sing.
Reluctant accountant; enthusiastic entrepreneur.
---
This post is the 7th chapter in the "Who I Am" project. This month's topic: jobs I've had. The post was supposed to be done weeks ago but do you have any idea how tough it is to write an entertaining post about accounting?!?!
Please head over to Kiss My List where Dana has links to other stories.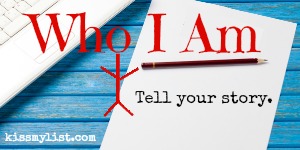 You Might Also Like: