Throughout my educational career, I always thought it was better to be tardy than absent. It is in that spirit that I am finally posting Chapter 9 of the Who I Am project.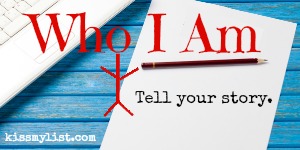 "Who I Am" is a writing project hosted by Dana from Kiss My List and Bev from Linkouture.
Each month we are given a prompt regarding some aspect of our life. The goal is, at the end of the year, to have twelve chapters in the book titled Who I Am.
This month's theme:
School Days
It occurs to me that most of what we learned in school – facts, rules, theories, skills – are deeply embedded in our brain, stored like countless library books on the shelves.
But then we also have other tales from our school days – people and experiences – which stand out in our minds as special and particularly memorable.
I may not remember the exact moment I conquered cursive writing or learned to diagram a sentence but I do remember…
"Plasmodium causes malaria." – the mantra of my high school biology teacher, Ms. Harrell and the source of all my plasmodium themed nightmares.
"The Statute of Frauds has nothing to do with fraud." – the mantra of my business law professor, one crotchety old Professor Eagan.
After weeks of having this drilled into our heads, the Statute of Frauds was the subject of an essay question on our first exam of the semester. That particular day was the one and only time I overslept in college, arriving at the 8am exam a half-hour late and very flustered. Eyeing the exam question, my mind instantly went blank. I proceeded to write paragraph upon paragraph about fraud – as in "The Statute of Frauds has EVERYTHING to do with FRAUD!". Needless to say, I got zero points for that question.
The silver lining was that I had made a bet on the results of that exam with a cute guy in my class. I lost the bet and he took me out to dinner and now we have been married for 36 years.
By the way, because I know you are dying to know…
As you can see, the word "fraud" appears nowhere in the definition. My bad.
Being a Milk Monitor – The responsibility of delivering just the right number of individual cartons of milk to each classroom is serious stuff. This job had all the prestige of being a crossing guard without the uncomfortable worry of protecting fellow students' lives.
Stopping off for candy before school  – My sister and I used to stop at Mr. Patrick's Store, a little, old-time general store on the way to school. We would pick out five or ten cents worth of penny candy to have as our treat after school. (OMG I really sound old.)
This lovely tradition was revived when I was in high school and my pals and I would stop at 7-11 for candy as we drove to school. Ellie and I, in particular, favored Atomic Fireballs.
The SRA Reading Comprehension Program – Does anyone else remember this? It came in a big box full of color coded cards. Students would pull out a card, read the passage and then answer questions about what they read. A passing score on enough cards in one level would allow the student to progress to the next color. A reading race through the rainbow!
My fabulous high school French teacher, Madame Bayer. It wasn't until years later that we realized Madame Bayer and her husband, Coach Bayer, as brand new teachers, were only a few years older than us. Prime evidence of how much one matures between high school and college.
My not-so-great, "he who shall not be named", high school history teacher. I remember nothing from that class other than how terrible it was.
It is no surprise that throughout my adult life I've had much more of a passion for the French language and culture than I have had for history. Teachers can make all the difference, right?
State Capitals – I don't necessarily remember all of the state capitals but I do remember the contest to master the entire list thereby getting your name on the State Capital Honor Roll and earning a candy bar.
It seems that candy is a recurring theme throughout my school days memories.
Getting off at the wrong bus stop  – Mostly what I learned from that experience was that it is much more terrifying for the mom than it is for the wayward child.
Home Economics Class – I vividly remember the taste of the first tuna noodle casserole (with potato chip topping, of course) made in the cooking rotation and the immense feeling of accomplishment as I completed my multi-color, floral romper in the sewing rotation.
If only Top Chef and Project Runway had been around then I could have been a reality star rather than an accountant.
Tuck-Aways – Invented by my mom, tuck-aways are kisses tucked into one's pockets or under a collar, carried through the school days to be pulled out for comfort as needed to fend off sadness, loneliness, or fear.
They help a lot when you get off at the wrong bus stop. Or oversleep your alarm on exam day.
I could go on and on but now I'm interested in hearing from you.
What memorable people or experiences stand out from your school days?
You Might Also Like: