I'm a strong believer in geographic karma.
I think we each have some place that speaks to our soul like no other.
Perhaps it is a family vacation home where memories were made and traditions passed down through the generations.
Perhaps, like my blog pal Barbara, it is a place you have visited as a tourist but hope to return as a resident – if even just for a little while.
For me, the place I feel most connected is Glenview.
My kind of town. Glenview, Illinois.
It's the village in which Peter and I bought our first house, raised our children, have made great friends and fabulous memories.
Twice job situations took us away from Glenview but each time we made it our goal to return. And both times we did.
We are not alone in this devotion.  I know at least a half dozen other folks who have also moved away and come back. There is something about our little Glenview.
Peter and I settled in Glenview in 1981. With our first baby on the way, we looked for a place to raise our family.
The fall of 1981 was not a good time to be buying a home. Mortgage rates were at an all-time high of, wait for it:
18%!!!!
I'm not kidding – google it. That's like financing your house on your credit card.
After lots and lots of looking, we finally found an adorable, small brick ranch that came with a very attractive quality. An assumable mortgage.
The sellers had a mortgage with the rock-bottom rate of 8% that we were able to assume and blend with our new mortgage so we could get down to the low, low rate of 12% making these two accountants giddy with excitement.
Those were NOT the days…
Still, we were thrilled to put down our roots in this special place.
So what is it about Glenview?
In no particular order here are just a few of the reasons that I love Glenview:
The schools – Our children were lucky to have attended wonderful schools from pre-school all the way through high school.
This is a town where education is valued. Both academic and extra-curricular activities receive great support and the schools have received national recognition because of it.
We also have a pretty fabulous library.
The Park District – We have a tennis center and golf courses, summer camps and swim lessons. We have walking trails, playgrounds, pools, a skateboard park and fishing pond.
Oh yes, and we have a farm. Right smack in the middle of Glenview, less than 15 miles from the heart of downtown Chicago, sits Wagner Farm.
Now owned by the Glenview Park District, Wagner Farm is a very popular place; excellent for visiting grandsons!
The Glen – For many, many years the Glenview Naval Air Station occupied over 1,100 acres of the village. Naval planes flew overhead and the Goodyear blimp parked there when it was in town.
In 1995, the Glenview Naval Air Station was decommisioned by the Navy and the land was deeded to the Village of Glenview.
Imagine, suddenly having the opportunity to redefine the landscape of 12% of the area in your town – a blank canvas. Well, not totally blank. The village had to tear up about a million cubic yards of concrete and tear down a bunch of Navy buildings, but still.
Through careful planning and execution, the area was transformed into The Glen.
Featuring homes, apartments, a new school, the park district fitness center, senior center, pond, sportsfields, a gold course, two retirement homes, Kohl's Children's Museum, shopping and dining, The Glen has something for everyone.
The Glen is home to some of our favorite restaurants and the fabulous shopping mecca Von Maur, where gift wrap and shipping are always free.
But most of all, it's the people – Glenview's motto is, "Hug the Bear" referring to this guy.
The statue, a gift to the children of the Glenview from an early resident, Ed Jackman, has come to symbolize the community spirit in the hearts of the fine folks of Glenview.
For Peter and me, Glenview is home to many of our oldest and dearest friends. Our children all grew up together here, creating family memories like moms and tots parties, slip and slide baseball, the 4th of July parade and fireworks. Baptisms, graduations, weddings.
Glenview is the place where we see familiar faces everywhere we turn. A place of great comfort. Home.
Paris is lovely but my heart belongs in Glenview.
What is your favorite place?
---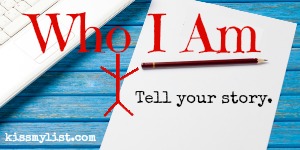 I am participating in the "Who I Am" series. This writing project is the brainchild of Dana of Kiss My List and Bev of Linkouture. Each month we are given a prompt regarding some aspect of our life. This month it is all about our favorite location. The goal is, at the end of the year, to have twelve chapters in the book titled Who I Am.
You Might Also Like: