Did you ever stop to think about how habits and quirks shape who we are?
Habits are those behaviors that give our life structure and predictability. Quirks, I think, are habits gone rogue; behaviors that reflect our personalities and, for better or for worse, make us unique.
A few examples…
HABIT: I try to always practice good manners. Please and thank you, napkin in my lap, elbows off the table.
QUIRK: When someone fails to say "thank you" to me, for instance when I hold the door open for them, I get a bit passive-aggressive and say a very loud "YOU'RE WELCOME".
I'm not particularly proud of this quirk, but I can't help myself.
HABIT: I was taught that the proper way to set a table is: fork on the left, spoon on the far right, knife next to the spoon with the blade facing the plate.
QUIRK: This habit is so deeply ingrained in me that, without fail, when I sit down at a restaurant and am faced with silverware not laid out in this manner, I must reset my place setting before looking at the menu.
If I find the silverware wrapped up in the napkin I will disassemble, place the utensils in their proper place and the napkin in my lap.
Every single time.
HABIT: I believe strongly in respectful discourse between individuals.
QUIRK: When expressing my opinion in a conversation, I feel compelled to end with "in my opinion" just so it's clear.
"A certain candidate running for President is both scary and evil, in my opinion."
"Mushrooms are terrible and should be banned from the earth, in my opinion."
"Pizza, on the other hand, is the most perfect food and can be enjoyed for breakfast, lunch and dinner, in my opinion."
HABIT: I was taught that it is improper to take a knife to your salad. My grandmother always said that salads should be prepared so that the pieces are small enough to manage in one bite.
QUIRK: Wedge salads are my arch nemesis.
HABIT: I try to be observant – always aware of what is going on around me.
QUIRK: Sometimes being observant is a good thing like the time I was able to track down the family that accidentally took my suitcase instead of their own when they got off the "T" in Boston.
But sometimes, it can get a little freaky-stalkerish like the time when I had a feeling that the young man sitting near us at a restaurant was about to propose to his adorable girlfriend. Darn if he didn't do just that but I was in the ladies room and missed the moment.
No worries. Before leaving the restaurant, I stopped by their table to extend my congratulations, say I was sorry I had missed the moment and to assure them that I would "imagine it in my mind".
I actually said that.
Freaky-stalkerish, indeed.
Moving on…
HABIT: I make a habit of being thorough.
QUIRK: This manifests itself in the form of extremely lengthy text messages. And lots of emojis. The more the better. And enough exclamation points to effectively make my point.  Possibly a few Xs and Os thrown in for good measure.
HABIT: Polite people engage others in conversation. Myself, I like thorough conversation.
QUIRK: I am prone to share my entire life story with everyone I meet, especially waiters, store clerks, hotel staff, flight attendants, really just about anyone.
"Yes, I'm checking in. We have a big family group checking in, actually. We have all come to Disney World to celebrate my father-in-law's 80th birthday. He lives in Nashville and almost wasn't able to come because of a snowstorm. And my youngest grandson is here for his very first trip. And I was born in Florida and used to come to Disney World quite often. In fact, my mom took us all to Disney World in the first week it was open. My high school's Senior Night was at Disney World and it was so much fun…"
"Uh… Ma'am, check in is at the desk across the lobby."
If asked, I bet my husband and children would say that this habit/quirk is the one that drives them insane they find most endearing about me.
After all, it is our habits that give order to our lives and our quirks that make us ever so lovable.
---
Habits & Quirks is chapter 3 of the Who I Am project hosted by
Dana of Kiss My List and Bev of Linkouture.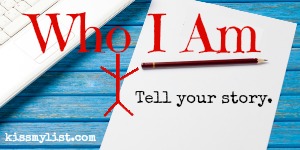 You Might Also Like: