After previously posting a list of my pet peeves, it is only right to give equal time to the things that bring me joy.
You've heard me say it before, I'm a lucky gal. Pathologically optimistic, I take great pleasure in celebrating life's gifts.
Certainly, it goes without saying that it is the people in my life who bring me the greatest happiness. Experiences shared with these folks bring a kaleidoscope of color to my days and fill my heart with delight.
With grateful appreciation for the life I live, here are some things that add joy to my world:
Every single second spent with my grandchildren. Snuggling with them, listening to them tell stories and laugh, reading to them and hearing those oh-so-magical words, "I love you, Momo." – means the world to me.
I could easily end my list of joys with that but it would be a pretty short post so I will carry on.
A perfectly cooked steak accompanied by a fabulous Napa Cabernet Sauvignon. (You knew wine would be on the list, right?)
Outdoor firepits – especially the one on this beautiful deck in Montana.
Football season.  I particularly enjoy college football (including tailgating) but will happily while away hours watching the pro games, too.
Amazon Prime. I consider this to be Jeff Bezos's gift to procrastinators and those needing instant gratification. Guilty and guilty.
Blogging. I love writing and reading. I love figuring out the technical stuff and design. But ask just about any blogger and they will agree that the community – the people we meet both virtually and in real life – is the very best part of blogging.
Disney World – the happiest place on Earth and the site of so many wonderful family memories.
Pizza – my favorites being a Chicago deep dish pizza with green olives or a crispy thin crust with pepperoni and pineapple.
Dining al fresco in a world without mosquitos, flies or bees. I must admit, this is one thing I miss about living in San Diego.
Game night. My favorite board game: Personal Preference. Please visit here to read about the time I called a store looking for this perfectly innocent, "get to know your friends and family" game and, to the horror of the store clerk, called it "an adult specialty game".
My new computer. She is beautiful and lightning fast. The old one put up a gallant effort after its full-scale crash but was just never the same. Now the old guy is resting comfortably in the closet of electronics to be recycled and is no longer living under the threat of being smashed with a hammer.
A fresh blanket of snow on the ground with a bright blue sky up above. I know people think we were crazy to leave San Diego to return to Chicago but I really, truly love winter.
Thanksgiving and all the trimmings. You gotta love a holiday that solely revolves around sharing food. Also, there are the leftovers.
My house. There's no place like home.
A basket of warm bread on a restaurant table. And if that warm bread is sourdough? Pure bliss.
On a related note, a warm sweatshirt or towel just out of the dryer.
Excellent customer service. It's not that hard. Why do some companies treat their customers like adversaries rather than the lifeblood of their business? Mutual respect is a good start.
Snail mail of the handwritten kind.
The Golden Dome.
The calming sound of waves on the shore. Of course, for me, this must be experienced under the cover of a slathering of sunscreen and a giant hat. As my daughter says, we Irish are an indoor tribe.
Thoughtfulness, generosity, and appreciation.
The Star Spangled Banner and a flyover. Brings both joy and tears.
Time spent at a winery. My favorite vacation with family is to Disney World. My favorite vacation with friends is wine tasting.
Christmas carols – mostly the classics, not the one about Mama needing shoes in heaven.
Bruce Springsteen and the E Street Band in concert.
Going to the movies. A matinee rom-com and a bucket of popcorn (with butter if I'm being honest) is how I spell "A perfect afternoon".
Pay it forward at Starbucks. Either as a giver or receiver, this random act of kindness makes me happy.
Kindness in any form. I'm a strong believer in the power of kindness to soften hearts and minds and the power of kindness to heal the world.
But what else would you expect from a pathological optimist?
What about you? What places, experiences, and things bring joy to your life?
---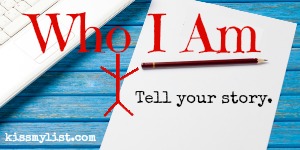 Throughout 2016, I am participating in the "Who I Am" project which is the brainchild of Dana from Kiss My List and Bev from Linkouture.
The purpose of the project is to give participants an opportunity to record the story of their life – for themselves, for their children, or just because.
There is still time to join in the fun. Click here to get the monthly prompts.
You Might Also Like: