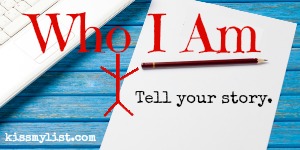 "Who I Am" – Chapter 6
Throughout 2016, I am participating in the "Who I Am" project which is the brainchild of Dana from Kiss My List and Bev from Linkouture.  This month's topic is: 'Betcha didn't know…'.
(You can find all of the other chapters in my "Who I Am" story here.)
We all have some life experiences that stand out in our memory for one reason or another. Wacky, wonderful, life-changing or personality-revealing, these experiences help to illustrate the story of our life.
Please let me share a few "betcha didn't know" facts about myself.
Over the course of my life, I have moved 25 times.
Witness protection program?
No, just a family that likes adventure and isn't afraid to try new places.
These different homes include 3 dorm rooms in college, a couple of temporary housing apartments occupied while we waited to move into one house or another and multiple homes in five different states. Each of these moves involved copious amounts of boxes, paper, and tape.
So, yeah, I'm kind of an expert at moving. If you need any advice, I'm your gal.
I've been to dinner with Phil Donahue and on a late night Denny's run with Timothy Leary.
When I was at Notre Dame I was the Comptroller of the Student Union. This very exciting job meant that I paid the bills for all of the Student Union sponsored events, got free admission to these events (making me a very cheap date) and occasionally got to dine with the various celebrities who came to campus.
Phil Donahue, Notre Dame alumni, husband of Marlo Thomas, and former talk show host is the person whom Oprah credits with paving the way for Oprah to become OPRAH.
Phil was on campus for a lecture and four or five of us took him out to dinner at a fancy-pants restaurant.
Quite charming, he spent the entire meal asking us about life on campus and seemed particularly interested in how women were assimilating into life at Notre Dame since the school had become co-ed only a few years earlier.
Our trip to Denny's with Timothy Leary, world-renowned proponent of the mind-expanding benefits of LSD, was something different.
I assure you that no LSD was involved but Mr. Leary did bring a bottle of liquor in a paper bag from which he took frequent gulps while enjoying his Grand-Slam Breakfast.
I'm a proud member of the CPA Exam 300 Club.
The CPA exam consists of four parts. The passing score for each part is 75. Those of us in the 300 Club scored exactly 75 points on all four parts meaning that we just barely passed studied precisely the correct amount of time and not one minute too much.
My place of employment has been robbed – twice.
The first time was when I was in high school working at a bookstore in the mall with my sister. One day I was managing the cash register while my sister was in the back room working on inventory.
There were a number of customers in the store and a few in line at the register. As one customer departed, a couple stepped up to the register. She distracted me with questions about a display behind me before I had a chance to close the register drawer. After what seemed like only a few seconds, I turned around to see her accomplice yanking money out of the cash register.
Insanity kicked in. Yelling something like, "What do you think you are doing? Give that back!", I grabbed the money out of the robber's hand and the duo ran out of the store.
(Definitely one of the most foolish and unsafe things I've ever done and was, in fact, my answer to Coach Daddy's 6 Word Challenge for June: Tell us about something you did decidedly unsafe – in six words.)
The second time, I was working at a bathing suit shop on the beach and noticed a woman stick a couple of string bikinis in her beach bag. This time, I was smart and called the authorities rather than taking matters into my own hands. The police nabbed the woman in the parking lot and – wouldn't you know – she had a gun in her purse.
I'm not sure that those bikinis were worth risking a charge of armed robbery. Throw in a Speedo or two then maybe…
I volunteered on the committee to bring the 2016 Olympics to Chicago.
For a couple of years, I spent hours each week as a volunteer with the Chicago 2016 committee. Without a doubt, this was one of the most rewarding and amazing experiences I have ever had.
I rode the train downtown one or two days per week to work in the office doing everything from making copies to researching international holidays. I helped out at events all over the city including Taste of Chicago and youth fitness events.
I greeted International Olympic Committee members when they came to Chicago for their site visit and stood on the stage near President Obama as the city celebrated making the first cut from Applicant City to Candidate City.
Even as a volunteer, I got to participate in small ways at big events.
I collected a lot of great SWAG and most importantly met lots and lots of incredible people who were all working diligently towards the same goal.
Sadly, the International Olympic Committee decided that the games should, for the first time ever, be held in South America rather than in the greatest city in the greatest country in the world.
Go figure.
So as you are watching the Rio Olympics with all of the talk of Zika and filthy water and crime and power outages, remember the folks who tried really, really hard to bring the 2016 Olympic Games to the good old U.S. of A. Coulda, woulda, shoulda.
You Might Also Like: