Today begins the year long "Who I Am Project" hosted by two fabulous blogger friends of mine, Dana from Kiss My List and Bev from Linkoture.
The purpose of the Who I Am Project is to give participants an opportunity to record the story of their life – for themselves, for their children, or just because.
A different topic will be explored each month and by the end of the year we will have compiled 12 chapters of memories, shedding light on how we became who we are.
The first chapter starts, as you might expect, at the beginning.
Childhood.
Reflecting on my early years and looking through photos for this post, my mind was flooded with little random snippets of memories. In no particular order and completely out of context, here are some of those snippets for you to enjoy.
No judgement.
A is for ADVENTURE – As a family, every endeavor we undertook, every opportunity that crossed our path and every challenge we faced was treated as an adventure. Having that attitude has served me well throughout my life.
B is for BUFFY – The first dog I remember having. Buffy was an adorable, blond cocker spaniel and just the sweetest little thing.
C is for CLUMSY – When I was six years old, my ballet teacher took my mother aside and told her that I was not welcome back for the next session since I was just a bit too clumsy for ballet and the family shouldn't waste money on lessons. Ouch…
D is for DOLLS – Oh how I loved my dolls, particularly Chatty Cathy (perhaps that is her is the picture?) and every single one of my Barbies.
E is for EVIDENCE – One time I snuck a finger-full of frosting from a Sara Lee chocolate cake that was in our refrigerator. When my sweet mother asked me about the missing frosting, I played dumb. However, I was busted by the evidence I left behind: my lovely, lace monogrammed hanky.
F is for FAMILY – Family is everything. Always has been; always will be.
G is for GOLF COURSE – The house I grew up in backed up to a golf course. It was like having acres and acres of land as your backyard.
H is for HORSE – In my final ballet recital, I was cast as a horse. Not the back side of a horse as my dear husband likes to tease me; the entire horse.
I is for ICE CREAM – The sound of the ice cream truck coming down the street still puts a smile on my face.
J is for JOURNAL – A number of years ago my mom came across a journal I wrote in school – probably 3rd grade or so. Reading what I wrote and the teacher's responses had my mom, my sister and I crying with laughter.
Me: Yesterday was my sister's birthday. She got a thing maker, a mummy model and a guillotine.

Teacher: Whatever do you do with a thing maker and a guillotine.

Me: You make creatures with a thing maker. You chop off a man's head with a guillotine.

Teacher: How dreadful.
You can't make this stuff up. The poor teacher must have thought she was dealing with the Addams Family and was surely ready to call protective services.
K is for KATHRYN – This saint of a woman took care of our family, watched over me and my siblings and even moved across the country with us after my dad passed away leaving my mom with four small children.
L is for LESSONS – Every day in the summer, we would walk across the golf course to the clubhouse and pool. I started swim lessons practically before I could walk. We also had lessons in arts and crafts or, as my sister called it, arfs and crabs.
M is for MINNOWS – We would catch minnows in the little inlets near our house using hot dogs as bait. Oscar Mayer worked best.
N is for NEXT DOOR – When I was a baby my grandparents relocated from Connecticut to Florida and moved in next door to us. The path between our houses was well worn.
O is for ORANGE GROVE – At that time Florida was so undeveloped that my grandparents had an orange grove in their yard. Sweet, delicious oranges.
P is for PACIFIER – The story goes that I, being a model child except for that tiny chocolate frosting transgression, gave up my pacifier one night of my own volition. I got out of bed, went to the kitchen where I placed my pacifier in the garbage can under a banana peel, and never needed that crutch again.
Q is for QUIET RECONNAISSANCE – Having made elaborate escape plans in advance, every Christmas Eve my sister and I would sneak out of bed in the middle of the night to scope out the treasures that Santa had left for us. The trick was always to act surprised when we got up on Christmas morning with the rest of the family.
R is for ROUND TABLE – The long gone, but not forgotten restaurant where I tasted pizza for the first time and a culinary love affair was born.
S is for SPURS – As a child I had a problem with a turned-in foot. The doctors tried a few different things but what worked best were leg braces. When I look back, I don't remember the braces as something difficult. In fact, we pretended that I was Dale Evans and the braces were my spurs. Another adventure.
T is for TAP – The kind of dance I took up after being kicked out of ballet. I liked the shoes better anyway.
U is for UNMENTIONABLES – As another family story goes, I was so excited about the prospect of beautiful big girl panties that I breezed through potty training without incident. This story could also have been filed under "T" for TMI.
V is for VEGETABLES – I was obsessed with a set of plastic vegetables I saw at the store. I still remember that happy day when the vegetables came home with me to play.
W is for WOOLWORTHS – Our local Woolworths store had a soda fountain where my mom and I would often stop for a treat. Behind the counter they had a wall of balloons each containing a coupon. Customers were invited to throw a dart at the balloons to reveal how much they would save on their bill. Better than any carnival game.
X is for X-RAY – As a young girl, I fell and broke my arm. What I remember most from the incident is that after the X-ray confirmed the break, I got a shot of novocaine with the most gigantic needle I've ever seen. I also got a Cinderella wristwatch.
Y is for YORKSHIRE POPOVER – On department store outings we would stop for lunch and I would always enjoy this yummy treat. (Have you noticed that lots of my memories involve food?)
and finally….
Z is for ZORRO?
I have absolutely no memory of this day or this outfit. I can only imagine that I was trying to dress myself as some cowboy hero because I guarantee that my mother would never do this to me.
This picture does, however, make us laugh every time we look at it.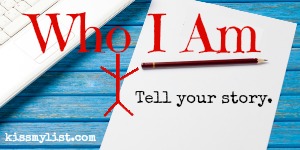 You Might Also Like: