We all know that babies don't come with an instruction manual. Parenting is an inexact science figured out on the fly. Learning while doing. All rooted in love.
But ideas about the "right thing to do" have evolved over the years.
This got me to thinking about how different parenting was in the '80s and '90s when we were raising our kids versus now when they are raising kids of their own. And, how different I am as a grandparent than I was as a parent way back when.
Times have changed bringing new, often better, definitely safer ideas to the world of parenting.
For example, my friends and I have all experienced this one.
The crib, in which our little babies slept, was carefully wrapped up and stored with the hope and expectation that we would someday have grandchildren who would, themselves, slumber peacefully in the "heirloom crib".
Except that the design of these cribs, with their too wide apart slats, has been determined to be a deathtrap and all the cribs had to go to the garbage dump.
Not to Goodwill, not to a garage sale. In the trash.
These lethal weapons had to be tossed out along with the now deemed dangerous playpens, jumparoos and other pieces of equipment to which we had unwittingly trusted our precious babies.
If only Pinterest had been around in those days. There would have been boards upon boards of DIY projects to turn these hazardous items into gorgeous garden ornaments or something.
And car seats?
These life-saving devices were just coming on to the scene as "must-haves" when my babies were born.
It wasn't until 1985 that all 50 states had mandatory car seat laws. Can you believe that???
When our first child was born, Peter had a bit of a heated discussion with my grandmother who insisted she was going to carry her first great-grandchild home from the hospital on her lap in the car just as she had done with her grandchildren (including me).
Needless to say, that didn't happen. But it wasn't such a far-fetched idea based upon the times. Today a suggestion like that would cause an international incident.
Heck, when I was a kid, we used to ride in the way back, rear-facing seat of the station wagon. I'm not even sure it had seat belts. Or, we would stow the seats and sit cross-legged amongst the bags of groceries. It's what you did.
That was then, this is now.
Nowadays, car seats are engineering marvels designed with every single known safety feature and painstakingly installed, often by a local police officer or fireman.
For the protection of our little nuggets, I wouldn't have it any other way.
As a parent, I relied heavily on the moms in my playgroup for advice.
Come to think of it, that hasn't changed over the years.
Our moms and tots group continues to meet (sans tots but sometimes avec grandchildren) at least once a month as we have for the past 30+ years. Now we share stories and support with a few grandparenting tips thrown in for good measure.
My kids confer with their friends who have children but they also have access to an almost infinite source of advice in the form of the internet.
Parent forums, Facebook groups and Professor Google supply a dizzying array of suggestions to solve virtually every challenge of parenting.
In my parenting days, I would have been completely overwhelmed by this volume of information.
My kids take it in stride – vetting the sources, analyzing, deciding on a course of action and, ultimately, relying on their gut to guide them.
Even with all the information in the world, parenting still comes down to trial and error and following your gut. That's something that hasn't changed over time.
Back in the day, we had only the PBS classics like Sesame Street and Mr. Roger's Neighborhood to entertain and educate.
Occasionally, we would pop in a Disney movie for fun but only after spending 5 minutes rewinding the VHS tape after the last viewing.
On road trips, we would play the alphabet game or highway bingo.
Now there are zillions of channels on the tv, access to on-demand shows, Netflix and downloads.
These shows can be watched on phones, tablets, computers and even the old-fashioned way, on the TV.
Screens, screens! Everywhere! Anytime!
But now experts recommend limiting screen time for young kids. Well, that's confusing.
This parenting thing has gotten a lot harder than it was when I did it…
Grandparenting, on the other hand, is one of the sweetest gigs EVER.
As a parent, I worried about every decision.
How much should they eat? How much should they sleep? Jacket or no jacket? What school is best for them? Sleepovers? Dance class? Piano lessons? How much is too much and how much is not enough?
As a grandparent, I have none of that decision-making responsibility and all of the fun. Sure, I will offer if advice but I try really, really hard to do so only if asked.
I try to stick to my Grandparent Manifesto, focusing on my duty to provide endless love and support. The little guys make my job easy.
Parenting has changed over the years. My role has changed. And I've changed.
But the one thing that remains constant through it all is the importance of love in everything we do.
---
Parenting: That Was Then, This Is Now is Chapter 4 in the Who I Am Project hosted by Bev at Linkouture and Dana at Kiss My List.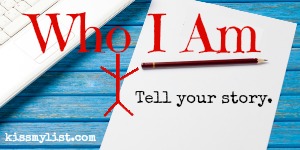 You Might Also Like: